Think beyond your resume - the effective ways to make you stand out in the job market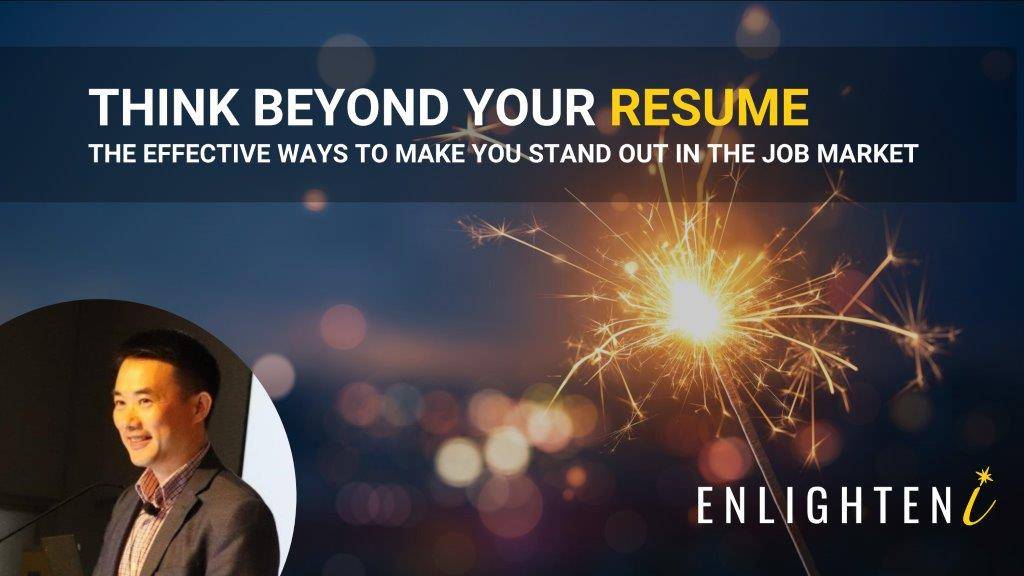 Could you show me your resume?
Most people will pull out pieces of paper listing things like their Career Objectives, Work Experience, Education and Certifications, etc.
For decades, we have relied on this typical resume to kick off a standard hiring process: Resume -> Interviews -> Offer. Numerous career resources are teaching you various resume writing tricks. Hopefully, your polished resume will pass initial screenings and get you an interview.
However, there is only so much you can do with your traditional resume. When everyone fills in the pages with similar "good" layout and keywords, What will make you stand out in the job market?
Let's take a step back and think a little deeper.
What exactly is your resume
To most job seekers, a resume is just a standard document, with one or a few pages to list your skills and experience. Related to this definition, a CV (Curriculum Vitae) is like an extended version of your resume with more pages, and a cover letter is like a quick summary of your resume for HR to read.
However, why do you need a resume in the first place?
It is to get hiring managers' attention. Then, they may move you to the next step of the hiring process, e.g. an interview.
Therefore, a broader concept of a resume includes anything helping you achieve this purpose.
Beyond your typical resume, here are some alternatives for you to explore:
Your LinkedIn profile speaks a lot!
Many employers and recruiters are searching for potential candidates on LinkedIn. They want to get a holistic view of you via this popular social platform for professionals, such as:
How do you describe yourself professionally?

What profile photo do you use?

How many and what kind of connections do you have?
How do other people say about you?
Can your experience, education, and certifications on LinkedIn match your submitted resume?
What kind of things interest you?
How active are you in the community?
Nowadays, your LinkedIn profile is your social resume! However, so many people fail to leverage this powerful career portal. They have no LinkedIn accounts or have little to show under their profiles.
2. Personal (Portfolio) Website
Having a professional-looking website sounded like a big deal 20 years ago. But you can quickly build one today by using templates provided by WordPress, Elegant Themes, Wix, etc. Registering a domain name may only cost you a few dollars per year with discounts offered by IONOS, GoDaddy, NameSilo, etc.
With full control of your website, you have numerous ways to showcase your talents to the world:
Are you a photographer? Post your most stunning pictures in your portfolio page.
Are you a developer? Share your recent learnings of a new program language.
Are you a fresh graduate? Create an "About Me" page to list your most proud achievements at school.
Next time, including your website in your resume and inviting recruiters to check it out, it will differentiate you from many other candidates.
Owning your website is great but not mandatory. With so many online sharing platforms like YouTube, Instagram, Facebook, LinkedIn, Twitter, you have multiple choices to publish your blogs, photos, videos.
Companies are using content marketing to sell their products and services. You can do the same to promote yourself, for example:
Writing blogs or tutorials to showcase your skills and experience
Sharing photos of industry events you attended
Commenting on other people's posts with your perspectives
Creating a how-to video to solve a common problem
By choosing the right platforms and adding some values to others, you will attract more career opportunities. You can also use your content creation work as examples of your soft skills (e.g. continuous learning, communication, collaboration) in your resume or interview.
For many tech jobs, applicants usually put a long list of skills and tools in their resumes. But how can you quickly convince employers you are job-ready?
The magic words are: "Let me show you..."
For example:
A cybersecurity student refers to his/her blog/video on how to do some typical security jobs (e.g. Setup a virtual pentest lab locally, Configure a PIM - Privileged Access Management process on Azure, Establish a good cloud security baseline for VMs, Network, Data, Applications)
A software developer shows his/her GitHub for an open-source project
A cloud engineer runs his/her template for automatically provisioning a simulated dev environment on Microsoft Azure
A system architect displays his/her architecture framework for solving a common industry challenge
A marketing specialist plays his/her podcasts for sharing ideas of Facebook promotions
These live demos usually get hiring managers' attention immediately. Once they appreciate your practical experience, you will have a great chance to advance to the next hiring phase.
For starters, you probably don't know many people in your industry. How can you build your network to discover more career opportunities? A fast way is to participate in industry events, meetups, or contests.
You will know who are the major players in the market and what they are talking about
You will have chances to connect with industry professionals
You will get career advice and support from the community
You will practice your skills in various training sessions
You will showcase your talents in hackathons or contests
Your engagement with the community will pay you in the long run. It will enrich your resume and help you identify hidden opportunities.
Like many people are saying: "What matters most is often not what you know, rather it is who you know."
What exactly is your resume? A resume is not just a static document listing your skills, experience, education and certifications. A resume is anything you can leverage to get hiring managers' interests.
Think creatively about your resume! By applying the power of LinkedIn Profile, Portfolio Website, Content Creation, Live Demos, and Events Participation, you will be ahead of the game and harvest more career opportunities in the long run!
Let's Think Beyond Your Resume!
Subscribe to our newsletter
Bryan is dedicated to developing the next-gen cyber talent via experiential learning, career development, and industry collaboration. Bryan is the founder of Enlighteni and Cyber Tech & Risk.
Bryan holds CISSP, CCSP, CEH, CND, PMP, CBAP, and several other professional certifications. He is a Microsoft Certified Trainer (MCT) specialized in Azure Cloud Technologies, and EC-Council Certified Instructor (CEI) for the courses like CEH and CND.

Bryan has delivered numerous cybersecurity courses & seminars at the organizations such as RBC, Manulife, CIBC, CPA Ontario, OCE, ORION, EC-Council, University of Toronto Rotman School of Management, York University Schulich School of Business, Lambton College, ventureLAB, City of Markham, etc.
Learn more about cybersecurity